Author: Mymop
Game: Minecraft
Date: Sunday, October 5, 2014 - 5:27 pm



Description:
My beautiful "house" on Different.
Exterior view.


Living room.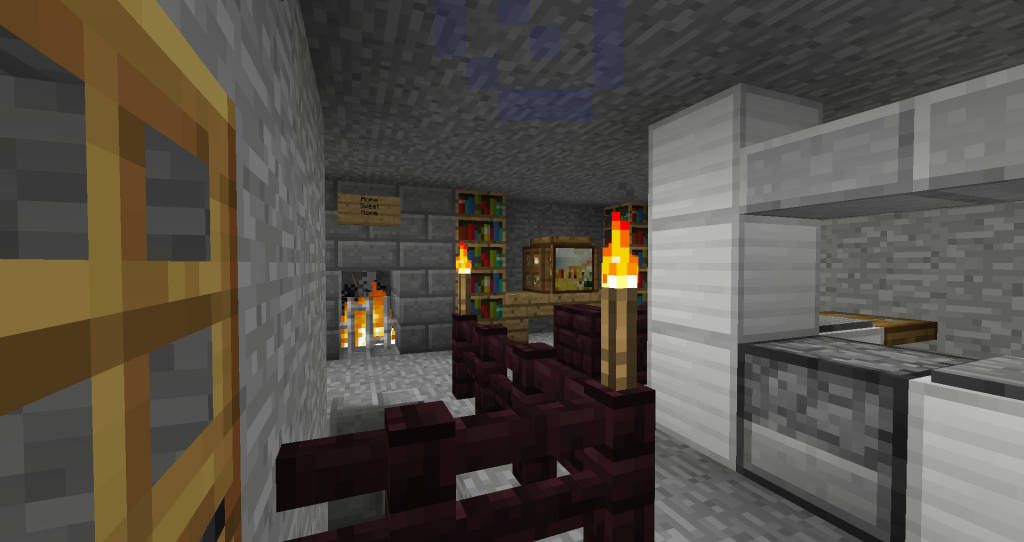 Bathroom.


My bedroom.


Atvelonis's bedroom (With skylight).


Basement storage.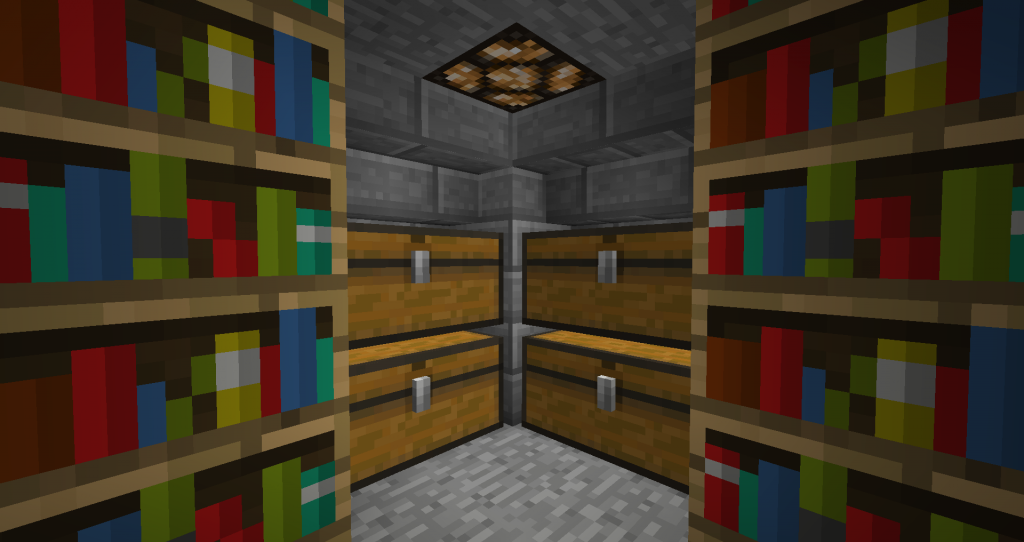 Balcony view.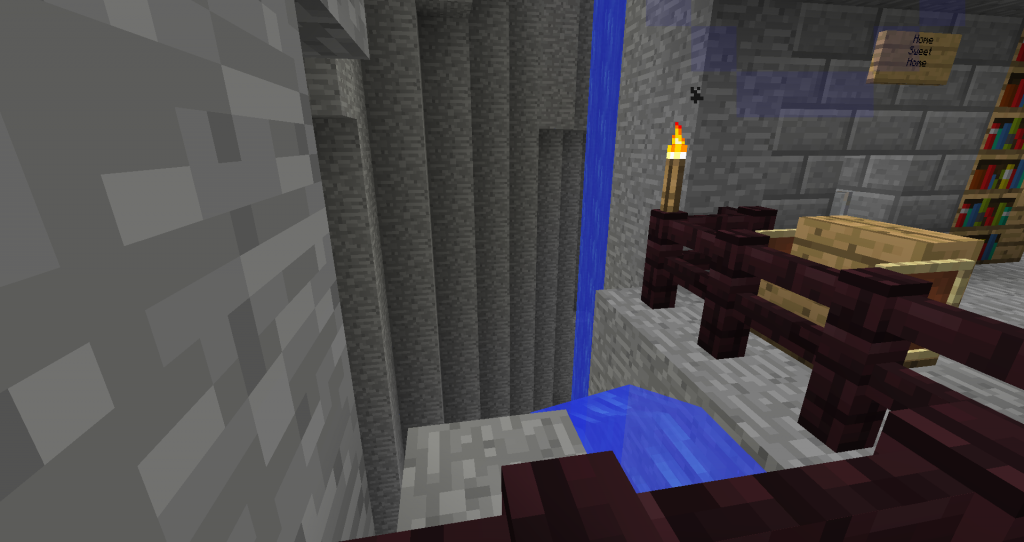 User Rating:
(Log in to rate)
Level Code:
User Comments (4)
Yaya

Age: 25
Karma: 747
Posts: 5367
Location: Ohio (US)
pm |

email




I imagine it would be neat to randomly stumble across this while wandering the server. The lack of an exterior design on one hand is good because it blends in with the environment well, but on the other hand is bad because it looks pretty ugly. I have no idea how to judge the interior of the house since in my eyes most MC houses seem to be an art of rearranging the same elements every into different layouts and positions. I liked the usage of trapdoors, and thought the shower was neat, but I don't know how innovative such additions are since I don't go in many houses on the server often. The balcony was cool too. The house seemed small on the inside, but it may have been the size of most other houses and just seemed smaller because it was built into the ocean floor. The random air bubble around the chimney on the outside looked bad, I don't know what you were aiming for there. To better establish the protrusion is indeed a chimney? No smoke comes out of it or anything so that felt unnecessary. There's no random air zone between the front door and the ocean. It could be easily fixed with sponges though. Also I think you could've given it a cooler title. I get there's a bit of bait and switch going on, but it is a freaking underwater house. That ain't humble and you should be proud of it

First time rating a Minecraft level, I'll go with a 7.3? It's interesting, but nothing too mindblowing. Am I doing this right?

EDIT: Also, I don't know how long it's been gone, but I approve of the ability to difficulty rate Minecraft levels being removed




---


COMING SOON: A giant meteor. Please.
Give me +karma. Give me +karma.
Yimmy
Resident Goody two-shoes

Karma: 70
Posts: 1602
Location: Climbing In Your Windows
pm | email


Little known fact: This is modeled after his real house




---




To Jebby, Shos said:

lol. i didn't ask if you're british. i asked if you can speak the British language! you know, it's like English, but with a wierd accent!

pronouncing "rare" as re-ah, or 'the hobbit' as lah-ob-eat.
no 'r's alive, you can't hear a british guy says 'there' the-r. it will always be 'the-ah'...

Mymop
Your Friendly Neighborhood Mop

Age: 18
Karma: 38
Posts: 857
Gender:

Male


Location: New York
pm |

email




Yaya: While building the house I decided to make it small and cozy. This is why I called it my "Humble Home". And the air bubble around the chimney was to keep water from extinguishing the fire in the fireplace. I didn't really care how it looked because you can't see anything from outside anyway, and also sometimes when flying over the ocean you will find random air pockets. By the way, that was the most detailed review I've gotten in a while on one of my levels. Thanks for your valuable feedback.




---

atvelonis
Apocryphal Ruminator

Karma: 151
Posts: 1632
Gender:

Male


Location: An antique land
pm | email


@Yaya: Perfectly appropriate rating; yes, you are doing this correctly.

I agree with Yaya, the air bubble does look kind of ugly. I dunno how you would fix that though. Also, the bathroom floor should have been quartz or something instead of just plain stone to make it more bathroomy. The interior decorations are mostly just your average decorations, but I do like the TV area a lot.

I do also really like the balcony.

And also, good job on actually making a bathroom. There are precious, precious few of them on the server, and only two (to my knowledge) in Spawn City, both of which were made by me (the bathroom in my Shack, and the public port-a-potty).




---

jellsprout said:

As a kid I always thought tennisballs looked delicious and I liked biting them. I still remember the feel of the fuzz on my teeth and tongue.

« Forum Index < The Minecraft Board

In order to post in the forums, you must be logged into your account.
Click here to login.