Karma: 655
Posts: 7745
Gender:

Male


pm |

email



Wow I click "Open HatPC" and it downloads a file. I open it up through neopets, and apparently I don't have shockwave downloaded? Oh well, I guess I should be working on homework anyways...
---

spooky secret

Age: 25
Karma: 747
Posts: 5367
Location: Ohio (US)
pm |

email



Woah, this is actually really, really good for something you made on the fly, on April Fools Day. I'm serious, despite the uncapitalized title which makes my eye twitch, this is a relatively simple but really tight speed cave that although was punishing it kept me wanting more. It's hard to explain, most of the traps are set up in deceivingly simple matters, but often require precise maneuvers to overcome them, and just when you think you can take a break after you beat a trap, it turns out beat that trap set off another one several blocks away that you have to run to before it's too late. I love it.

I'd kinda compare this level to a bicycle (bare with me), lots of thin, spindly parts that tend to be moving all at once, and it's easy to fall off. By this analogy then I guess I'm in the Tour De France cuz this cave is great. I pretty much suck at HATPC now, but I still found it compelling.

If I had some complaints, it really is uneven in certain areas. The lack of tutorial arrows often makes things difficult, especially in the 2nd half of the cave that has more secret areas. Sometimes traps that seem deceivingly simple are actually that simple, but then are followed up with one that will totally throw you to the curb, there's not much rhyme or reason to the flow of the cave. It would've been nice if it got progressively easier or harder.

In case you're wondering, I got all the way to the right wall of the cave, which seems pretty good, since what I can gather from the preview map is that you just have to backtrack a little to get the door. I might play it more tomorrow. Solid effort though, Soccerboy. Make more levels please.
---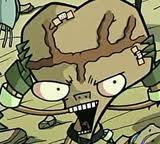 COMING SOON: A giant meteor. Please.
Give me +karma. Give me +karma.