« Blogs Index
« krotomo's Blog

This is a guide about how to glitch through walls in Aeon. In order to use this bug, you must have a one-tile wide crawlspace with terrain, metal crates, or other solid objects to the right. The crawlspace has to be at ground level to the character, in that you have to be able to stand up at least one tile to the left of the crawlspace, with the crawlspace at the character's feet.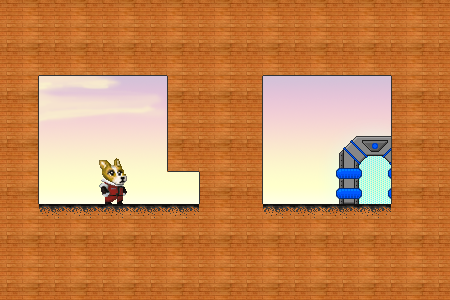 To do this bug, simply crawl right and approach the crawlspace. Right before you reach the crawlspace, let go of the down arrow key but continue holding the right arrow key. If you do it correctly, you should be at the corner of the crawlspace, with the character rapidly switching between a standing and crawling position. Once you are in this position, jump. There seems to be a random chance that you will either jump straight up, in which case nothing interesting will happen, or you will glitch through the wall to the right of the crawlspace.

You will continue moving through any solid objects until you reach an open space. Gravity will still affect you as you are glitching through the walls.

A gif of the bug in action:

https://i.gyazo.com/802769be1ecb80cb4ef7ae8268390359.gif

You can't see the rapid switching between standing in crouching in this gif, but in-game you can.

User Comments (1)
shos
~Jack of all trades~

Age: 29
Karma: 388
Posts: 8270
Gender:

Male


Location: Israel
pm | email


and sooo...IT BEGINS. finding glitches in aeon just like hatpc...this is useful!




---

« Forum Index < The Aeon Development Board

In order to post in the forums, you must be logged into your account.
Click here to login.